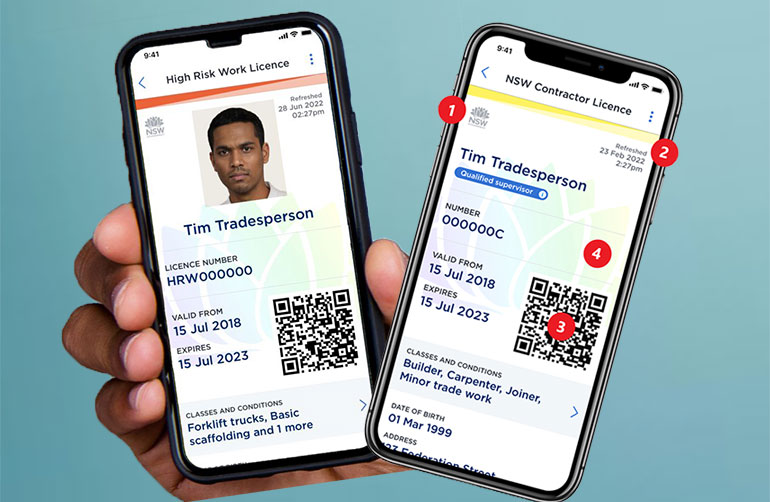 All NSW trade licences are now digital
The NSW Government has now made it possible for people to access digital versions of their trade licences and credentials. All digital trade licences and credentials can be accepted at worksites in place of the physical card.
Digital licences are a quick and secure way to display your credentials, making it easier to stay on top of licence expiries and ensure tradespeople remain certified.
Five trades licences and credentials have already been digitised, with more to come.
Get them through the Service NSW app.
Getting a digital trade licence will not stop your plastic card from being issued.
Download the Service app to get your digital trade licence
The following Licenses are now available
High risk work licence
The digital version of the NSW high risk work licence is now available in the Service NSW My Account and Service NSW app. This digital licence is a free, optional alternative to a physical card, making it easier than ever to stay on top of licence expiries, check credentials and ensure tradespeople remain certified for the work they do.

A high risk work licence is required to operate some machinery, erect scaffolding or undertake dogging or rigging work.
High risk work licences are valid for five years and recognised nationally.
White card
A white card (or general construction induction training card) is required by anyone who wants to carry out a construction work launch, such as tradespeople and labourers, site managers or other people who work in construction areas.
Contractor licence
Builders and tradespeople in NSW need to hold an individual contractor licence to do building work where the total cost of labour and materials is more than $5,000.
Qualified supervisor certificate
A qualified supervisor certificate allows someone to supervise and do the work described on their certificate.
Tradesperson certificate
A tradesperson certificate allows someone to do plumbing, draining and gasfitting work with minimum supervision. People who hold a tradesperson certificate can't sign off on work.
Their work must be overseen and signed off by someone who holds a contractor licence or qualified supervisor certificate.