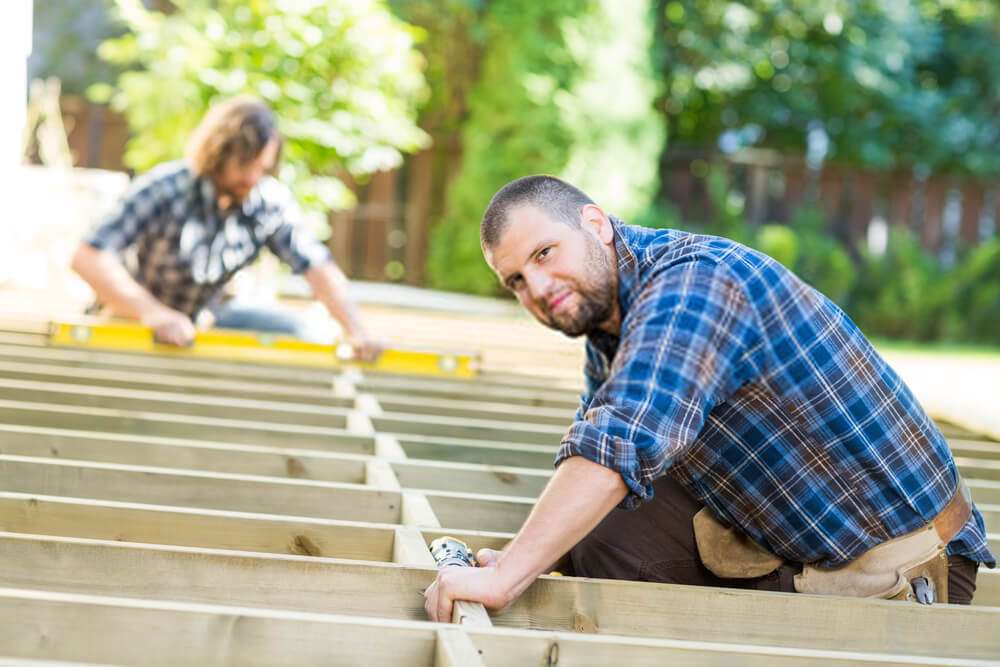 Carpenters ─ Building Australia one stick frame at a time!
We have good news. The future looks promising for carpenters.
The employment growth for carpenters and joiners is projected to be 11,7% in the coming five years to 2024.
But to enter this promising field of handicraft, you will need to be good with your hands, be able to read technical plans, and have a keen eye for detail. And that's only the beginning.
What Is It Like To Be A Carpenter?
Carpenters work with wood. They construct, build, install, and repair wooden foundations, walls, frames, and fixtures.
It's a physically demanding job (you work with power and hand tools, as well as various equipment). It can also be mentally tiring (you have to read blueprints and do endless measurements). At times, it's dirty. Above all, mastering this craft requires time, patience, and love for what you are doing.
Chippies — that's what we Aussies call them. An old saying comes to mind here: "a carpenter is known by his chips". This means people learn about your craft and your skills looking at the work you left behind. You don't want to disappoint the coming generations, don't you?
We dare say the sense of fulfillment and satisfaction you receive from carpentry is worth the effort. It's a craft that opens up limitless career paths you can follow.
Carpentry: Types And Occupations
Carpenters specialize in a wide range of areas and help construct or renovate residential, commercial, and industrial buildings, such as houses, condos, hotels, schools, bridges, tunnels, to name just a few.
Let's differentiate three types here:
Framework carpenters are the first ones to start working on a new project as they create the frame of the building.
Formwork carpenters are responsible for creating temporary constructions, otherwise called falsework, to support structures "until they can support themselves."
Sustainability is a major trend in construction, and Australia is following the global agenda of making the Earth a better place to live in. Green carpenters prefer to use environmentally-friendly materials, that's why projects focusing on energy efficiency and sustainable design are increasingly looking for such professionals.
However, carpentry goes beyond the construction industry.
Shipbuilding is another field you can get involved in. Ship's carpenters are skilled in shipbuilding, ship repair, and maintenance.
There are smaller-scale tasks that can't do without chippies. Window and door fittings, wooden floors and stairs are all fixed and made by carpenters.
We have more to add to the list.
Cabinetry and fine furniture call for artisans who can design and build cabinets and all sorts of furniture for our houses and offices.
These professionals have different names: joiners, fix carpenters, shop fitters, finish carpenters, etc.
Not to bore you with an endless list, we will simply refer you to the sixth paragraph on this article, to help you learn more about carpentry types and occupations.
When you choose the one closest to your heart, next come two major steps to be completed: doing an apprenticeship and getting a licence.
How Do You Get Started?
Apprenticeship is the first step. You'll be able to start your apprenticeship, once you complete Year 10.
Most probably you will start working for a builder, usually as a laborer. It's a vital stage in your career, as you gain hands-on experience working closely with expert carpenters. You watch them do the actual work and gain a full grasp of what it's like to work as a carpenter.
Along doing an apprenticeship or after accomplishing it, you should seek a proper certification. That's when you should enroll in training provided by a Registered Training Organization (or an RTO).
Certificate III in Carpentry and Joinery CPC32011 is the most common training people choose to complete. During this time you basically combine on-the-job training with your formal education.
Done with the course? Congratulations! Now you are a certified carpenter ready to reach new career heights.
How Long Does It Take To Become A Carpenter In Australia?
An apprenticeship usually lasts for about four years.
To complete Certificate III in Carpentry and Joinery CPC32011, you will need three years in case of full-time attendance and longer if you enroll as a part-time student.
Note that most people do an apprenticeship and attend formal training simultaneously. In this case, you should be able to get certified quite quickly.
Major Skills Carpenters Need.
Successful carpenters enjoy working with natural materials. They have physical stamina and great hand-eye coordination. They are also extremely detail-oriented and good at calculating and measuring.
The demands are even higher for self-employed carpenters and for those who decide to start their own carpentry business.
A Solid Understanding Of The Entire Construction Process
A career as a sole trader provides you with valuable skills and experience that can be applied to the construction industry as a whole. By building major structural components, carpenters need to be aware of the work completed by other trades.
When building framework, you will need to be sure that items such as concrete footings or brickwork are built and formed correctly. This is vital as any failings in other structural components can lead to the timber frame failing.
Similarly, not completing framework correctly presents issues for other trades down the line. This can include issues with fitting doors and windows, or bowing frames providing an uneven finish.
Skills In Estimating Projects And Placing Orders.
A sole trading carpenter should effectively and profitably tender for projects. You are required to have a solid understanding of how the whole project works, how to do an estimate of the materials, such as timber, nails and bracing straps, and the labour involved to complete it. Underestimating or overestimating a project are usually the two major challenges to be fought.
By overestimating on a project, either through high-profit margins or incorrect takeoffs, there is the potential to lose the job by submitting a quote that is far higher than what your competitors offer.
On the other hand, underestimating a project can have disastrous financial consequences. Should you win the bid, you may find that your profit margin is incredibly low, or not profitable at all, causing major cash flow issues.
Networking And Communicating Skills
You should be an effective communicator as you often work with your customers, suppliers and other stakeholders. To scale your business, you will also need to be great at building connections and expanding your professional network.
Marketing And PR Skills
When you start producing your own work, get ready to promote the beauty you create.
Hire a professional photographer to take pictures of your work. Build relationships with local business owners and request referrals from flooring companies, kitchen and bath installers, painters and other contractors. Use your customers' reviews to build trust with your prospects.
If you need more help, here is more information on how to promote your business: How to Successfully Market Your Local Carpentry Business and Marketing & Advertising Ideas for Carpenters.
By the way, networking skills can also help those who are just starting out on their apprenticeship.
How To Find Apprenticeship Opportunities In Australia?
Ready for some marketing tips? There we go.
One of the most effective techniques is to go to construction sites and ask if they have any available positions. Be proactive and invest some time to reap the benefits.
Cold calling should be helpful, too. Search for a list of companies involved in building, construction, and carpentry in your neighbourhood, and start contacting them. Remember that you have options across residential, commercial, and industrial projects.
You can use social media as well. Simply jump on a Facebook "Local Jobs" page. Find and contact people who are looking for apprentices.
Can Foreigners Do An Apprenticeship In Australia?
A qualified carpenter back in your country? Thinking of moving to Australia and working in this trade? To do an apprenticeship as a carpenter and work in the trade, you will need:
Permanent residency or Australian citizenship. You can also apply for a student visa and come to get your training here. After completing the required courses, you should be able to continue learning and working in Australia.
TFN (Tax File Number) and ABN (Australian Business Number).
A White Card(to make sure you have a basic understanding of the safety measures on a construction site).
Personal Safety Equipment ( for example, safety glasses, steel-cap boots, ear protection, high-visibility workwear, etc.)
Tools (the basic tool set includes drills, saws, tape measure, finishing and nailing guns, ect.)
Qualifications and/or Licensing.
Let us take a few seconds here to answer one of the most frequently asked questions: how much can I earn? Here is an overview on your earning potential.
How Much Do Carpentry Apprentices Earn?
The wages will vary during your apprenticeship. As you gain experience and become more skillful, the amount of money you receive will increase. For example, 4th-year apprentice carpenter will earn more than a 1-st year apprentice carpenter. Fair Work Ombudsman has pay calculators and information on all aspects of receiving payment. Check out their website for more details.
How Much Does A Qualified Carpenter Earn?
According to Neuvoo, in Australia, qualified carpenters earn $74,060 per year or $37.98 per hour, with entry-level positions starting at $55,000 annually. The most experienced workers make up to $110,000 per year.
If you think the earning potential is promising, read on. It's getting better from here.
Maximizing Your Earning Potential
The main benefit of becoming a qualified carpenter is the ability to start your own business and being your own boss.
You can even become the next Ole Kirk Christiansen, a Danish master carpenter, who founded his carpentry business to earn a living during the Great Depression. LEGO, a company that started with wooden toys made by Christiansen himself, eventually grew into a toy giant. Impressive, right?
Your career path can also be as unpredictable as it was in case Harrison Ford, who was a self-taught carpenter before being featured in the blockbuster Star Wars.
But Ford's example is an exception. The most common career move for carpenters is becoming a builder.
Switching From Carpenter To Licensed Builder
Just because you are your own boss does not mean there can't be any further career progression. Building on from your structural and construction skills, combined with the experience gained from running your own business, it is quite common for a carpenter to become a registered builder.
To pursue a builder's career, you can start by completing the CPC40110 Certificate IV in Building and Construction (Building) course.
This certificate will enable you to work in small to medium-sized building businesses.
The pathway to becoming a registered builder includes further study, as well as a few years of on-site experience.
Your understanding of structural and architectural drawings will expand onto all other trades involved with the project. This includes concreters, plumbers, electricians and earthworkers and many other tradies.
Note that each state in Australia has different requirements you must follow if you want to become a builder. Our Complete Guide to Getting your Builders Licence in Australia has all of the major highlights explained in one place.
Uncovering Your Full Potential
Where do you go from there? It's totally up to you. You can move to supervisory roles, such as a manager, a supervisor, or an estimator. Completing the CPC50210 Diploma of Building and Construction (Building) course will be the next logical step for you.
While the additional responsibility can prove to be rather stressful, continued successful completion of projects will provide you with a challenging and rewarding career.
Remember, builders and managers who previously worked as carpenters, have additional skills and insights that help them find success in their career.
Education – A Cornerstone Of Your Career
High-quality training is needed to further develop yourself as a sole trading carpenter, as well as help you apply for a builder's licence should you choose to.
That's when Back to Basics comes into play. Comprehensive training programs are offered to help you expand your knowledge of construction practices, and help you run your own business effectively.
We offer courses in Building, Contract Administration, Estimating, Site Management, Project Management, Shopfitting and more.
These courses are designed to teach you:
How to identify and manage project risks
How to correctly evaluate tender documentation and prepare estimates
Understanding, implementing and maintaining safety laws and regulations
Develop and implement practices and policies for sustainability
Choose the right contractors, and manage them effectively
Minimize wastage on building sites
And much more.
The information on how to complete tenders and prepare estimates will ensure you are providing the best price possible, allowing you to profitably win work, while the units relating to WHS and project management will make sure that your work is completed safely and to a high standard.
Ready To Get Involved?
Here are a few highlights on why to complete your training with Back to Basics.
You gain access to training materials written by builders for builders.
You receive one-on-one training from industry experts.
You learn at your own pace.
If you would like more information on the courses Back to Basics offers or are interested in upgrading your resume with one of our qualifications, call us on 1300 855 713 or email enquiries@backtobasics.edu.au to find out more.