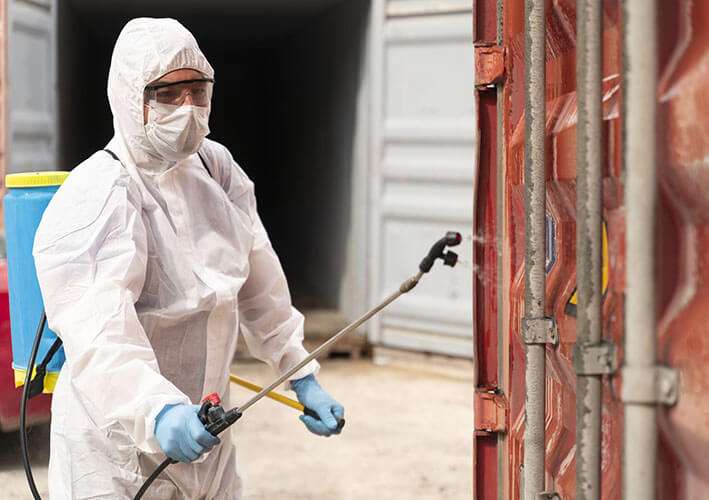 COVID-19: Impact and Lessons for the Construction Industry
COVID-19 has come to create a new normal in the way we work and interact.
Traffic jams vanished, trips were cancelled, cafes became abandoned at short notice.
COVID-19 has disrupted work on construction sites, too. From large projects through to small ones, the construction industry in Australia has witnessed widespread cancellation, slow down or a dry up of projects.
People are cautious when it comes to starting a renovation. Work slows down and the sites go through strict hygiene practices as coronavirus cases are confirmed among workers. The results are painful; the industry faces financial hardships and job losses.
COVID-19 is surely a major threat to the world economy, but if we choose a can-do mindset it will teach us how to prepare for any future disaster to minimize losses and keep our teams productive.
Whether its' a boon or a bane, we don't have the luxury to bring the work on construction sites to a dead stop. First, because construction is considered an all-important sector in the industry and employs a huge number of people in Australia.
In fact, construction generates over $360 billion in revenue (9% in the total GDP of Australia) and employs over 1,15 million people. Besides, this sector produces infrastructure that has a strategic role in the operation of other industries.
That's why, as non-essential businesses close down due to the COVID-19 situation, most of the construction sites remain open with physical distancing and cleaning protocols in place.
Here are five main challenges the industry faces today and the lessons they teach us.
1. Keeping Construction Sites Safe And Open
Slow work is better than no work. The virus is here and we need to take care of people's health. So how do we keep construction sites safe for those who have to leave their homes to keep the economy going?
Everything starts with holistic management of the situation. First, early detection. Second, immediate medical attention. Third, testing. As a final step, confidential reporting of the case.
Review your day-to-day activities and the way you organize the work on-site. You may need additional and portable buildings to provide extra room for meetings, breaks, and lunches. Shift work can also be an option to reduce exposure and minimize interaction among employees.
Train and prepare your staff for this and other future health crises or force majeure situations. Think strategically and long-term ─ make sure the decisions you make are sustainable and help you to meet and fight challenges with increased confidence.
A thorough information package is available to help you clean the workplace and prepare it for safe work. Follow these guidelines from Safe Work Australia to learn more: Cleaning to prevent the spread of COVID-19 and Preparing workplaces for COVID-19
If you have an issue related to safety on your site, visit ABCC's website to contact the relevant state or territory safety regulator.
2. Creating A Hybrid Work Schedule.
Identify the tasks that can be accomplished remotely and have at least a part of your team stay at home. Perhaps they are not that efficient when working from home, but still architects, designers, and engineers can complete a certain amount of their work without showing up in the office.
3. Working With Reduced Productivity.
It's inevitable. The on-site health and safety measures (social distancing, staggering of work, enhanced sanitary measures, etc.) will affect the workflow and cause issues. Be prepared to experience at least some loss of productivity.
But think of it as an opportunity. When was the last time you had the chance to zoom out and revisit your priorities? It's a great time to stop for a minute and think which tasks align with your final goals best.
Be proactive, not reactive. Today more than ever before you should find out how to leverage technology and online platforms to boost your team's efficiency.
COVID-19 aside, if you create a database of online tools that will help your team collaborate across teams and stakeholders and be able to work at any time from anywhere, you will make an important investment in ensuring the painless operation of your business in unprecedented times.
4. Evaluating And Mitigating Schedule Delays
Any construction industry practitioner knows ─ schedule delays are a common issue in our industry.
But if there is a large-scale challenge, this problem becomes even more pressing.
When and where possible, you should aim for the re-sequencing of activities, re-distribution of the workforce, and job-sharing.
Planning such flexibility and putting it into practice will be essential if the social distancing requirements remain in place for an extended period of time.
Note that delays are classified into four main types:
Critical or non-critical delays
Excusable or non-excusable delays
Concurrent delays
Compensable or non-compensable delays
The situation created by the COVID-19 lockdown might have led to excusable delays in your work schedule. In this case, you will have a valid excuse to substantiate your inability to meet a deadline.
Honest and open communication is the best shortcut to clear the confusion. Be straight with your business partners, employees, and other stakeholders. Timely and honest discussions will help you stay on a positive path and seek solutions together.
Increased stress, tough workload, unusual risks… All of these are natural in a crisis but if both parties are willing to take their own share of responsibility, they manage to smooth out gaps and eventually build trust ─ the most precious capital in your business.
5. Minimizing Supply Chain Disruptions
Just think of it. Australia imports a large number of construction materials, the vast majority of them from China.
All of a sudden, sourcing construction materials became a tough challenge to tackle. On the other hand, the crisis proved to be an opportunity for many industry practitioners.
ACIF reports that many Australian based companies have experienced significant increases in demand in construction materials since the outbreak of the coronavirus.
Contracts ─ What's In Them For Construction Project Stakeholders?
Now is the time to pull out your contract. You will need to look attentively into clauses related to force majeure, unexpected events, and delays.
In the case of COVID-19, you should find out if your contract recognizes pandemics as force majeure. Natural disasters, wars, acts of terrorism, government embargoes, lockdowns ─ all may be classified as force majeure events.
In its essence, force majeure means an unforeseeable event beyond your control and prevents you from meeting the contract requirements which allows contract parties to negotiate the possibilities of time extension to perform obligations without frustration of the contract.
If your contract is not detailed enough to capture the above-mentioned events, in particular, if there is no reference to pandemics or epidemics, you might consider a contract frustration.
When the performance of a contract becomes impossible because of something neither party has control over, you might be able to argue that your contract has been frustrated.
As we have seen above, the lockdown may affect or paralyze supply chains which can result in contract frustration.
When you start your next business partnership or sign your next contract, make sure you seek specialist assistance and pay attention to the force majeure and contract frustration clauses.
Measures Taken By The Australian Government
Fortunately, governments worldwide understand that construction is an industry that should be given special attention.
To keep companies financially healthy, Australian state governments offer packages to assist businesses to survive the pandemic and keep on operating.
Western Australian government, for example, announced a $24.5 million support package for the construction workforce.
The ABCC remains open to assist employers and employees in the building and construction industry. A hotline is available and site visits can also be requested.
Wrapping Up!
COVID-19 has hit the construction industry hard; however, the lockdown measures are being eased gradually, but one thing is certain. We need effective management and informed decisions to get over this crisis.
Competent professionals are essential to keep workplaces safe, apply building codes to the construction process, ensure the continuation of the workflow, and negotiate contract terms with each stakeholder.
That's when a nationally recognized training provider steps in.
Back to Basics offers courses to help you acquire your desired qualification quickly and effectively.
All you have to do is to choose the course that fits your career goals. We have taken care of the rest.
○ You learn from the comfort of your home.
○ You learn with materials that are developed by builders for builders.
○ You enjoy one-on-one guidance from industry experts.
○ The price you pay is all-inclusive.
○ You partner with a recognized training provider whose courses are tried and tested by thousands of Aussie tradies.
If you would like more information on the courses Back to Basics offers or are interested in upgrading your resume with one of our qualifications, Call us on 1300 855 713 or email enquiries@backtobasics.edu.au to find out more.