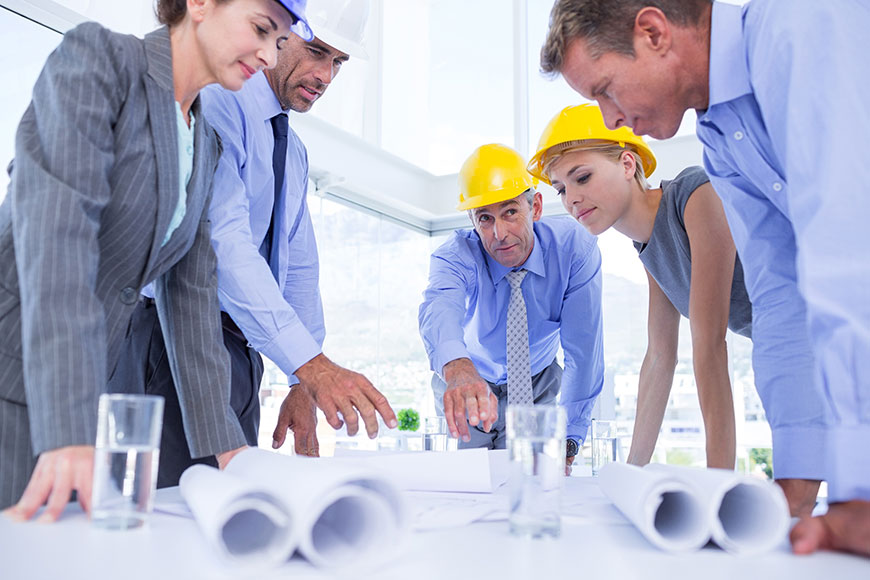 How to Choose a Suitable Construction System
Repairs, replacements or building failure – that's the price you pay if you don't pick the right combination of materials for your construction project.
Remember, your knowledge is your reliable compass. It orients you through the maze of construction systems and guides you towards informed decisions for planning a building.
Let us begin with the main definition.
A construction system is the combination of materials used to build the main load-bearing elements of a building – walls, floor, and roof.
When it comes to choosing a construction system, here is a non-exhaustive list of factors to be considered:
Climate,
Geographic location,
Desired style and/or appearance,
Distance from the source of supply and available transportation,
Availability of skills and materials,
Ease and speed of construction,
Maintenance requirements of materials,
Durability,
Thermal characteristics,
Energy consumption,
Environmental impact,
Cost-effectiveness,
Market perceptions and familiarity with the given product.
This list makes the challenge even bigger. It proves that your situation is unique – there is no single best solution. The combination of construction materials you choose depends on the ultimate goal of your project, available resources, and industry requirements.
To ease our task, we should dive deeper into the major types of construction systems.
Types Of Construction Systems.
Mass content is often the main criterion to differentiate between construction systems. Based on it, three main types are singled out:
Heavyweight (orhigh mass) systems;
Lightweight systems;
Composite (or mixed mass) systems.
Let's unpack the main characteristics of the first two systems. For your convenience, you will also find a short explanation for each of the specific term.
Heavyweight Construction Systems.
The common materials used in heavyweight construction systems are masonry and include brick, various types of building stone, concrete, tiles, rammed earth, mud brick, etc.
Heavyweight construction carries the following key characteristics:
Has high embodied energy.
Embodied energy is the total energy required to produce a building material (from extraction to processing, manufacturing, and delivery) as if that energy is "embodied" in the product itself. Note that best practices include assembly, maintenance, and recycling/demotion of the material to embodied energy as well.
Has improved thermal comfort (when used in conjunction with passive design and good insulation).
Thermal comfort refers to people's satisfaction with the thermal environment. This condition is of utmost importance for improving the comfort of occupants in a building.
Passive design is an approach to design that takes the maximum advantage of local climate and site conditions to minimise energy consumption and maintain comfortable temperature in the building.
Insulation is the process of preventing heat flow by keeping the building warm in winter and cool in summer.
Is most appropriate in climates with high diurnal temperature ranges (DTR).
DTR is the day-night temperature range — the difference between the daily maximum and minimum temperature.
Is more beneficial in heating climates (alpine and cool temperature).
Has reduced operational energy use (when used in conjunction with passive design and good insulation).
Operational energy is the amount of energy required to ensure that the building functions properly and occupants are able to maintain their activities. This includes the demand for heating, cooling, ventilation, lighting, and equipment.
Materials are often extracted and processed with high impact.
Typically requires less maintenance.
Requires substantial footing systems.
A footing is the part of a building which rests directly on the foundation. It supports the walls and transfers the load from the building to the foundation. In other words, a footing distributes the load of the building onto the foundation it rests upon.
Requires careful consideration and analysis on sites where there are significant transportation needs.
Typically is more durable than lightweight construction.
Lightweight Construction Systems.
You will find the following materials in lightweight construction: timber, steel, structural insulated panels, pre-fabricated products, fibre cement, polystyrene building products, etc.
These are the main characteristics of lightweight construction you should be aware of:
Typically has lower embodied energy than the heavyweight systems.
Generally produces lower total life-cycle energy use, particularly in climates with lower diurnal temperature range (DTR).
Is more preferable in warm climates as it cools rapidly at night (because it quickly responds to temperature changes).
Is preferred on remote sites with increased needs for transportation.
Usually requires more heating and cooling energy in high diurnal range climates (when compared to heavyweight construction with similar levels of insulation and passive design).
Can have lower production impact if the materials are sourced sustainably (e.g. sustainably sourced timber).
It's now getting more and more clear which of the two construction systems would be suitable for your unique situation.
However, in most cases, you will need to have them both to enjoy the best possible results.
Composite Construction Systems.
By mixing and matching construction systems, you are able to maximise the benefits of each. The following are the main types of composite systems:
Lightweight walls with heavyweight floor (e.g. cladding, brick veneer, slab integrated footings, detached strip footings).
Lightweight floor with heavyweight walls (e.g. timber framed flooring, steel framed flooring).
Lightweight walls and floor with water mass (this technique is used in cases when it's impossible to use masonry construction (for example, slopes and/or specific foundation materials require an alternative solution).
If you combine heavyweight and lightweight systems professionally and carefully, you can enjoy the best outcomes in terms of cost, environmental impact, and overall effectiveness.
Note that you need to consider all of the four main elements in a construction system: footing, floor systems, wall systems, and roof systems. Each comes with its own range of options:
Footing: Spread (pad) footings and Continuous footings.
Floor systems: High mass floors; Low mass floors; Composite mass floors.
Wall systems:
High mass walls (such as Double brick, Reverse brick veneer, Insulated concrete (tilt-up or precast), Rammed earth (also called pisé walls)).
Low mass walls (such as Lightweight timber, Structural insulated panels, Log walls, Cladding).
Composite mass walls (such as Autoclaved aerated concrete (AAC) block, Concrete block, Mud brick (adobe), Straw bale, Panel systems).
Roof systems: High mass roof systems (such as Earth covered construction; Green roofs) and Low mass roof systems (such as Tiles; Metal sheeting).
You can find a detailed explanation of specific types of walls, roofs and floors and their characteristics on the official website of Your Home – "Australia's most comprehensive guide to environmentally sustainable homes".
But there is more.
Some important highlights and nuances you should take into consideration when choosing a construction system are:
Each material has its environmental impact and thermal performance depending on where it is used – internally or externally.
The climate and geographical position play major roles in the performance and maintenanceof construction materials.
Use lightweight systems externally and heavyweight systems internallyto minimize the lifetime energy use.
Transportation requirements should be taken into account – especially when materials must be delivered to remote sites.
Specific site requirements should be considered, such as slope, thermal performance, noise control, sediment control, biodiversity, and fire resistance.
Exposure to destructive forces of nature is a not-to-be-missed factor (floods, earthquakes, winds, termites, humidity, etc.).
Maintenance often plays a decisive role in durability and life span. Heavyweight systems are considered to be more durable, however, well-maintained lightweight systems have equivalent durability. Moreover, poor maintenance can reduce life span by up to 50%.
In the planning stage, consider the options of recycling and reuse in order to choose, where possible, environment-friendly materials and to minimise the overall "cradle to grave" impact of the construction.
When you are done with the selection of the construction system for your project, you step onto the next essential stage — choosing the dozens and hundreds of products and materials to be used in the construction process.
Selecting Construction Materials For Your Construction System.
On 14 June 2017, a fire broke out in the 24-storey Grenfell Tower block of flats.
It caused 72 deaths. 70 people were injured. This was the worst UK residential fire since the Second World War.
The BBC investigation found out that cladding used on the Tower did not meet the safety standards and should not be used on buildings over 18 metres (59 ft) in height.
No denial here. Australian construction market has also been vulnerable in the face of non-compliant products.
November 25 of 2014 will be remembered for the fire caught in the Lacrosse Building (fortunately, with no fatalities and injuries). Again, the cladding of the exterior wall was found to be non-compliant with the Australian standards.
Unfortunately, there is more to this.
There have been quite a few reports of non-conforming products used in Australian construction, including roof panels with asbestos, use of faulty electrical cables, and poor quality bolts, as noted by the Australian Industry Group.
Choosing and using genuine and suitable products in construction calls for knowledge on industry requirements and regulations.
All products used in construction projects should be fit for purpose and comply with the National Construction Code (The NCC), and the Building Code of Australia (The BCA) in particular. This means, to be compliant, a product must not only work properly, but it must also be suitable for the purpose it is being used.
Check out our Ultimate Guide to the Building Code of Australia for an introduction to the BCA and the key information every building practitioner must be familiar with.
At this point, two important concepts should be defined: non-conforming and non-complying building products.
Non-conforming building products (NCBPs) and materials are those that do not do what they are announced to do.
Non-compliant products (NCPs) and materials are those that are used in situations where they do not comply with the requirements of the National Construction Code (NCC) or other relevant laws and regulations.
To put it simply, we call products non-conforming if they are substandard or "bad", while non-compliant products are those that are used incorrectly or "badly".
How Do You Ensure Your Building Products Conform And Comply?
Testing and proof are required to ensure a product's conformance and compliance. Specific schemes and methods provide evidence of compliance with the NCC.
ABCB outlines six types of evidence to verify that a product conforms or complies with the NCC:
Certificate of Accreditation from a State and Territory Accreditation authority.
Certificate from a professional engineer or another qualified person.
Certificate from a product certification body accredited by JAS-ANZ.
Report issued by a registered testing authority or
Other documentary evidence.
Independent third-party certification is recommended for products which have a high risk of failure or the consequences of such failure can be significant. If you choose to turn to a third party assessment body, you should make sure it's accredited by:
Joint Accreditation System of Australia and New Zealand (JAS-ANZ)– provides product certification, and develops management systems and assessment criteria.
National Association of Testing Authorities, Australia (NATA) – provides assessment, accreditation, and training services to laboratories and technical facilities.
other accreditation bodies that have relevant recognition to provide conformity assessment.
Conformity assessment activities may be carried out by the manufacturer or supplier, the purchaser and/or user, or an independent party that has no interest in the transaction between the first and the second parties. These three parties are also known as conformity assessment bodies (CABs).
Fortunately, there are resources to arm you with confidence and maximize levels of compliance for your project.
To assist you in your decisions regarding the compliance and durability of construction products, consult the following guide: Procurement of Construction Products – A guide to achieving compliance which is designed for all parties in the construction supply chain.
Be informed about the pros and cons of each construction system — it's your key to finding the best option for your unique situation. Keep in line with the latest updates on product compliance — it's your shortcut to quality construction that serves with minimum demands for maintenance.
By earning a suitable qualification with a nationally recognized training provider, you can lay a solid foundation for your career and take over construction projects with increased confidence.
Back to Basics is here to make this path shorter and easier to walk. Here is how.
You learn with the guidance of first-class tutors and industry experts.
You receive one-on-one support throughout the course.
You learn at your own pace.
If you would like more information on the courses Back to Basics offers or are interested in upgrading your resume with one of our qualifications, call us on 1300 855 713 or email enquiries@backtobasics.edu.au to find out more.