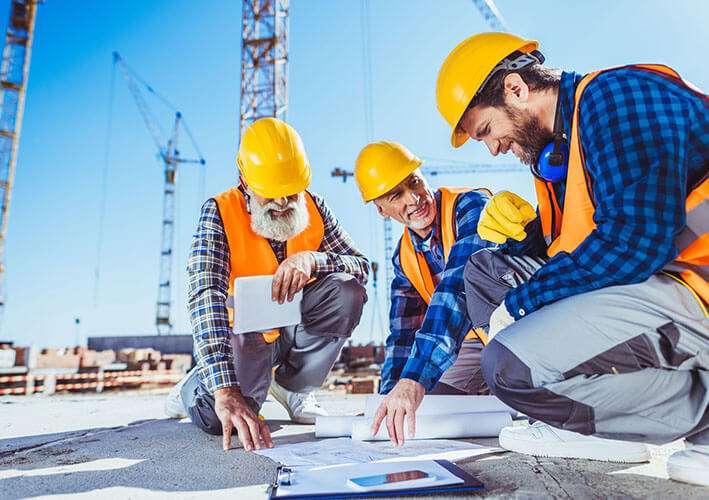 NCC 2019 Amendment 1 What's in It for You
"I wouldn't buy a newly built apartment. No."
When lawyer Bronwyn Weir publicly made such an announcement, it left no room for doubt that the construction industry has major cracks and something should be done to fix the situation.
To safeguard the construction industry from fires and failures, state officials and industry practitioners called for concerted efforts to identify the major issues and propose solutions.
A decision was made to review and update the National Construction Code (NCC) out of cycle prior to NCC 2022.
Titled NCC 2019 Amendment 1, this document is expected to be adopted by all states and territories from July 1, 2020. The final version of the NCC 2019 Amendment 1 will be made available via the NCC Suite.
A quick reminder. The NCC sets the minimum acceptable standards for new building and construction work across Australia. The Code was agreed to be updated once every three years. However, despite this predetermined three-year amendment cycle, the proposed changes are already due to come into effect.
Peeking Behind The Reasons.
Amendment 1 to the NCC didn't appear out of thin air.
Over the past decade, many events have led to the decline of confidence in building regulation in Australia.
In 2014, the high-rise Lacrosse building caught fire in Melbourne. Its external covering was highly flammable as in the case of London's Grenfell Tower.
This was followed by the revelation of building defects of Sydney's Opal Tower. Residents have to take ongoing legal actions to defend their rights and compensate for the damage.
Mascot Tower evacuations came next. Foundation defects were the main issue this time.
Another evacuation took place in Zetland because the apartment building Garland Lofts had "chronic water leaks and fire safety problems".
Unfortunately, it's only a fraction of various construction failures we have witnessed across the industry.
Urge For A Systemic Change.
To prevent the problems from growing and to find a pathway to systemic change, a landmark report on how to fix Australia's building industry was born.
An academic and former public servant Peter Shergold and lawyer Bronwyn Weir joined their efforts to put together a report called "Building Confidence". It brought to light concerns that presented the construction industry in fairly damning shades and shared 24 recommendations aimed to improve the situation.
These recommendations, fortunately, didn't remain on paper.
Building Ministers Forum agreed to a national approach to the implementation of the Building Confidence Report (BMF Communique, 18 July 2019) and a plan was initiated to outline a roadmap for industry-wide reform.
The Australian Building Codes Board (ABCB) was the one to take over the responsibility of incorporating the recommendations into the National Construction Code (NCC). The Board released a public comment draft for a proposed amendment.
What Is The Building Ministers Forum?
The Building Ministers' Forum (BMF) is made up of the Australian Government and state and territory government ministers to oversee policy and regulatory issues affecting Australia's building and construction industries.
As stated on their website, the BMF's work covers:
harmonisation of building regulations and standards
collaboration on compliance and enforcement
other policy issues affecting Australia's building and construction industries
After each meeting, BMF releases a Communique. The list of the previous communiques can be found here.
The Building Ministers' Forum includes three sub-groups. These are:
Australian Building Codes Board (ABCB) – oversees the development of the National Construction Code
Senior Officers' Group (SOG) – provides strategic policy advice to the BMF on building and construction issues of national significance
Building Regulators' Forum (BRF) – helps building regulators work more cooperatively and efficiently across jurisdictions and portfolios on non‐conforming buildings products; and monitors cladding audits and reviews
What Does NCC 2019 Amendment 1 Include?
Below are the most notable changes in Amendment 1:
A new provision to require that a process be followed to improve the quality of, and documentation for, Performance Solutions in response to recommendations of the Building Confidence report.
Reference to SA Technical Specification 5344 for the permanent labelling of Aluminium Composite Panels (ACPs) for all Volumes.
A new provision in NCC Volume One regarding egress from early childhood centres in high-rise buildings.
Amendments to NCC Volume One that clarify the existing concessions for low-rise Class 2 and 3 buildings and permit the use of timber framing.
Clarification in NCC Volume Two that anti-ponding board requirements only apply to roofs where sarking is installed.
In response to recommendations of the Building Confidence report, a new defined term, 'building complexity', was proposed to be used in the future to identify buildings for which additional oversight is appropriate.
Although the use of the term building complexity was proposed to be used in the NCC, recently a decision was made that it will not be included in NCC 2019 Amendment 1. The committee came up with another solution.
The term 'Building Complexity'.
The ABCB will publish the definition for building complexity on its website. A consultation period will be open for a six-month period to consult with states, territories, and industry stakeholders related to regulatory intervention.
A copy of the Exposure Draft can be downloaded from the ABCB website and any comments should be provided via the ABCB's Consultation Hub.
To give you an overview, let's see what the term building complexity entails.
This definition establishes a range of complexity levels, from 0 to 4, with 0 being the least complex and 4 being the most complex.
Four factors contribute to building complexity:
Complication
Use of a Performance Solution for materials or systems
Structurally complex
Effective height > 50 m
Located in an area of natural risk/hazard
Organization
Complex procurement (design and construct)
Structural, fire or life safety system(s) which need special maintenance or testing
Number of Occupants
Vulnerability of Occupants
More than 10 occupants who need assistance to evacuate
Now let's look into each of the above-mentioned major points separately and see what they include.
1. A New Provision For The Process To Document Performance Solutions In NCC 2019 Amendment 1.
Provisions that set out the process to be followed, including the creation of a Performance-Based Design Brief, to improve the quality and clarity of Performance Solutions for both approval and auditing purposes.
2. Labelling Of Aluminium Composite Panels
The Lacrosse Tower fire, the deadly Grenfell blaze, and the fire at Neo 200 have unfolded a new sense of urgency to replace combustible cladding from buildings across the country.
In fact, more than 3400 residential unit blocks across Australia have potentially flammable exterior cladding, according to a report commissioned by the Construction, Forestry, Maritime, Mining And Energy Union.
Amendment 1 is addressing this building crisis. From 1 July 2020 Aluminium Composite Panels must be labelled in accordance with Standards Australia Technical Specification 5344.
As stated on the Standards Australia website:
SA TS 5344:2019, Permanent labelling for Aluminium Composite Panel (ACP) products provides minimum requirements for the marking of ACPs to enable their identification throughout the life of the product.
An Aluminium Composite Panel (ACP) means flat or profiled aluminium sheet material in composite with any type of materials.
A sample of a label looks like this:
3. Egress From Early Childhood Centers In High-Rise Buildings
As we have shifted to living in high-rise buildings, trends have emerged to mark the existence of schools and child care centers in multilevel and high-rise buildings, too, to meet the demands of our urban life.
However, these trends create new hazards particularly in terms of fire safety. The reason is that children may not understand fire alarms and fire hazards. Besides, they need assistance when evacuation is required.
That's why in Amendment 1 enhanced fire safety measures will be applied in case of early childhood centres in high-rise buildings.
Here is what the NCC Volume 1 Part D1.18 states.
Amendment 1 Part D1.18 – Egress from early childhood centres
(a) every part of a Class 9b early childhood centre must be wholly within a storey that provides direct egress to a road or open space.
(b) The requirements of (a) do not apply in a building with a rise in storeys of not more than 2, where the Class 9b early childhood centre is the only use in that building.
Should an early childhood centre be proposed within a storey that does not meet the requirements of D1.18(a), a Performance Solution is to be used to demonstrate compliance with the relevant Performance Requirements.
Any new building permit application after 1 July 2020 will be subject to this NCC amendment.
The report Fire Safety of Early Childhood Centers in High Rise Buildings in Australia contains further details about the required automatic sprinkler system and fire compartments when an early childhood centre is located above ground level.
4. Concession: Class 2 And Class 3 Buildings
Previously, the wording in the Code left room for misinterpretations of the concessions contained in NCC Volume One, Specification C1.1, Clauses 3.10(a) and 4.3(a).
The ABCB developed an Advisory Note to initiate revisions so that ambiguity is removed to explain what the intent of the Code is.
These revisions apply to residential apartment buildings (Class 2) and residential parts of hotels, motels, boarding houses and the like (Class 3), typically with a height between 2 and 4 storeys.
Here is what the Advisory Note states:
The intent of the concession is to allow the use of elements containing timber framing and/or non-combustible materials for Class 2 and Class 3 buildings in certain situations where non-combustible material, concrete or masonry is otherwise required. The ability to combine timber framing with non-combustible components, such as steel framing, columns or beams, is also permitted by virtue of the provision at (a)(iii).
5. Anti-Ponding Device/Board
An anti-ponding material is designed to support the sarking membrane, prevent water from ponding and carry any water through to the gutter.
Clarification is included in NCC Volume Two that anti-ponding board requirements only apply to roofs where sarking is installed.
Helpful Resources For Further Consideration
The summary and instructions for NCC 2019 Volume One Amendment 1 can be downloaded here.
The ABCB also has an online seminar on the topic. In this seminar, Graham Moss from the ABCB will walk you through all of the changes in the NCC 2019 Amendment 1.
You can also access free NCC Essentials educational presentations on NCC topics.
Summing Up!
The NCC is set out to be amended every three years. This means the industry will need professionals who are competent to suggest and implement changes, thus making the building and construction industry more reliable, better organized, and rigidly regulated.
Training providers are in the front line and they have the responsibility to produce specialists that will be ready to enter the industry equipped with a solid knowledge base.
This will help us have buildings with no safety issues, work with manufacturers who supply compliant products, be proactive enough to propose changes to decision-makers, and take all regulations to execution without a fail.
Whether you are considering a new career path or want to revamp your skills and knowledge to meet the market's demand, Back to Basics provides courses designed specifically to suit the Australian Construction Industry.
Here is why more and more people choose to get their qualifications with us.
You enjoy a flexible schedule and learn at your own pace.
Your learning process is quick and effective— your training materials are written by builders for builders.
No hidden payments— there are no extra fees for your textbooks and learning materials.
You join a community of knowledgeable industry practitioners.
If you would like more information on the courses Back to Basics offers or are interested in upgrading your resume with one of our qualifications, call us on 1300 855 713 or email enquiries@backtobasics.edu.au to find out more.