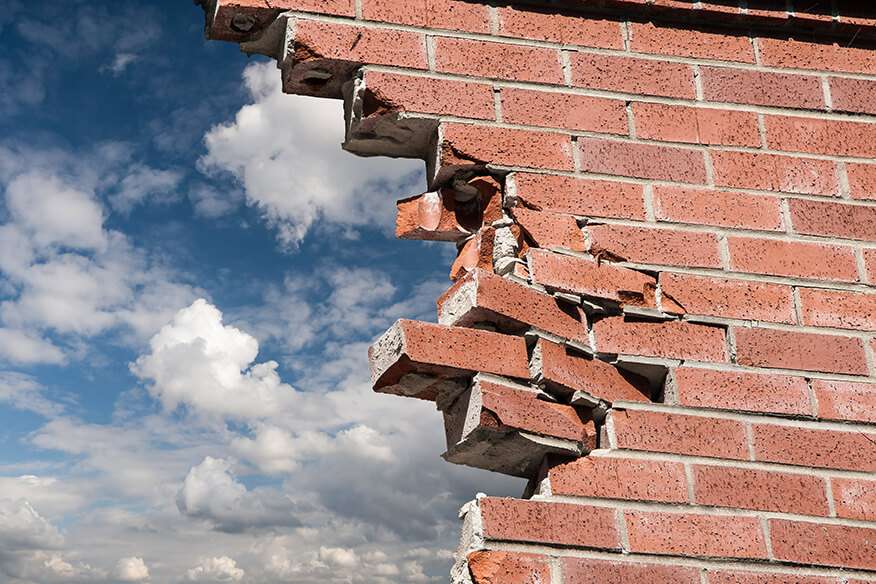 Six Causes of Construction Failures
The causes of a failure come in all shapes and forms: faulty design, use of substandard materials, unqualified workmanship, poor supervision, lack of maintenance…
Join us as we travel from Africa to the US, from Europe to Australia to share six stories of construction failures. Each of them has an important lesson to teach.
1. Inadequate Foundation.
A four-storey building
Location: Rwanda, Africa
In 2013, a four-storey building under construction collapsed in Nyagatare, the largest and second most populous district in Rwanda. The incident killed 6 people and injured more than 30 others — the majority of them being construction workers.
The incident killed 6 people and injured more than 30 others.
Inadequate foundation was one of the three reasons of the failure as reported by investigators. In an interview the engineer heading the working group stated that the foundation "couldn't support four storied complex at all… Transversal beams used to construct the building were too weak."
The growing need for commercial and residential buildings led to construction boom in hundreds of cities worldwide.
African cities are no exception. People have to cope with frequent news reports about building collapses. One of the top causes is that builders and developers cut corners by ignoring laws and regulations.
If the speed of constructing new buildings is combined with the lack of supervision and safety standards, the results are devastating.
2. Cracking.
The Opal Tower
Location: Sydney, Australia
A cracking sound that lasted for eight seconds in Opal Tower urged evacuation of all residents. The incident took place on Christmas Eve, 2018.
A crack in a pre-cast concrete panel put the structural integrity of the building under question for weeks to come.
Some of the hob beams on Level 10 and Level 4 were overloaded — they did not have the bearing capabilities required by recognized standards. It is reported that the core of the problem was the changes made to the original design of the building.
The builder Icon confirmed that 259 units in the 392-unit apartment complex are still empty after two months the cracking was heard.
Many bought their homes in Sydney's Olympic Park with high hopes for future, but ended up in temporary accommodations and questioning whether they will ever be able to sell their property. Some of the apartments, by the way, were originally valued at $2.5 million.
It's a known fact: designer's decisions impact the health and safety of everyone involved in constructing, using, maintaining, refurbishing, and demolishing the building. Any changes to the original design of a construction have to be weighed thoroughly.
3. Dampness.
Hundreds of houses in the Bucks County
Location: Philadelphia, USA
Canadian building scientist Gus Handegord said it best: "The three biggest problems in buildings are water, water, and water".
When the Mulnixes decided to sell their house, more than a decade had passed after their purchase on Valentine's Day.
However, a moisture inspection test left them facing grim news: incorrect or missing installation of water-diverting flashing caused water "drain directly into the stucco" – a cement-based plaster applied to walls.
As a result, the stucco was damaged and started cracking. The only solution, experts said, was to rip off the exterior of the building and build it anew.
It turned out this case was no exception.
The Mulnixes are among numerous families in Pennsylvania who bought houses since early 2000s – during the housing boom.
Years later, they would find out that the damage caused by water was of epidemic proportions. Hundreds of families were left in a shock: their homes "would not last through their mortgage". Their properties were decaying from within. The moisture damaged window sills and insulation – to the extent that some of the houses suffered structural damages.
Experts say occupants can't see the deterioration in most of the cases. And when an inspection test reveals the reality, it is usually too late. Tens, even hundreds of thousand dollars are now required to repair the damage by water.
Climate peculiarities must be taken into account in the earliest stages of design. This information is critical when it's time to choose construction methods and building materials. If builders fail in this task, nature's response does not keep them waiting for long.
4. Fire Safety Deficiencies.
Grenfell Tower
Location: London, England.
On June 14, 2017, fire broke out in a flat in Grenfell Tower – a 23-storey building in London. The worst disaster in the UK's modern history took the lives of 72.
To shed light on fire safety issues of Grenfell, we need a glance back in time.
Grenfell Tower, a social housing complex of almost 1,000 homes, was built in 1974 of reinforced concrete. It had proper fire safety features; in particular, the design of the building should have prevented fire spreading in case it occurred in one of the flats.
A major refurbishment was done on the complex in 2016. The building received a new cladding and windows, which, eventually, would prove to destroy the fire protection system of Grenfell.
The new cladding was made of aluminium sheets and a central polyethylene core – a highly combustible material "which melts, drips, and flows at elevated temperature".
Though the new cladding was the major reason of Grenfell tragedy, a number of other issues made the reality even more devastating.
The new windows were surrounded by combustible material that helped "the fire to break out from the flat to the rest of the building".
None of the flat doors complied with fire resistance standards.
The building was not fitted with fire sprinklers.
The refurbishment did not take care of lifts as well. They were not properly designed to evacuate residents in the event of fire.
Interestingly, the UK already witnessed a cladding fire back in 1991 when fire broke in Knowsley Heights in Manchester and "spread in a way no one had predicted via the decorative cladding on the outside of the building". This led to major concerns about fire safety standards in the industry.
Construction textbooks and official codes dedicate entire chapters to fire safety — from smoke alarms and emergency exit routes to fire separation and fire-resistant materials. Fire safety is a major part of the overall design of buildings and should never be overlooked.
Additionally, we must take every past occurrence seriously. Has Knowsley Heights incident been studied properly and preventive measures taken, chances are Grenfell disaster could have been prevented.
5. Inadequate Maintenance.
The Genoa Bridge
Location: Genoa, Italy
Feelings of mourning and fury went hand in hand at the state funeral in Italy. A local man, Alessandro, held a placard that read: "In Italy, we prefer ribbon-cuttings to maintenance".
The Genoa Bridge collapsed on August 2018, killing 43 and leaving 600 homeless. The bridge, constructed in 1967 was one of the longest concrete bridges in the world. It was also known as Morandi Bridge — named after its renowned architect Riccardo Morandi.
The reason of the collapse was reported to be insufficient maintenance of the construction.
Notably, the concerns about the safety of the bridge were present for decades.
Morandi himself warned in a 1979 report, 12 years after the inauguration of the bridge, that the bridge would require constant maintenance "to remove rust caused by sea air and pollution from a nearby steel plant". That's why the bridge has been subject to major maintenance works shortly after being inaugurated.
However, the state of deterioration was notorious. The concrete cables of the bridge were heavily corroded. The situation called for a solution.
Finally, to retrofit the bridge, there was a call for tender in April 2018. The bridge collapsed in August leaving the whole nation in devastation and mourning.
The Morandi Bridge collapse reminds us that constructions are like any other goods or vehicles. Without proper maintenance, they won't serve for long.
It's not only the climate peculiarities that must be taken into account. The environment should also be given a deep consideration. Decay and corrosion can cause structural deterioration and lead to major failures.
6. Damage By Termites.
Veterans Memorial High School
Location: Texas, USA
If you don't take care of them in pre-construction stage, they will take care of your house.
Buildings may crack or collapse, they may be caught up by fire or rot because of water. But they may also be eaten down by pests.
There is a sign to look out for.
If you find one or more strands of packed dirt on the walls – that's a red flag. In fact, it means termites and pests have eaten their way up from the soil. They now "transport the wood they break down from your home back to the colony".
The arrival of termites may cost you tons of money in refurbishment and renovation. A case in point – a high school in Texas had to pay $200,000 to recover the building from the termite damage.
No pre-treatment for termites was done during the construction phase of the $93 million dollar Veterans Memorial High School. It's estimated that "it would have cost the district less than $40,000 to treat the school before construction began".
The stakes are high for everyone. Every single aspect of construction should be analyzed, risks must be identified, and control measures must be taken early in the construction phase. Otherwise, you compromise the safety of the building and put additional stress and strains on your budget.
Ready To Take Your Share Of Responsibility?
Educators and trainers have an important mission to carry out. The right coach becomes a mentor who leads students to professionalism and integrity.
Back to Basics, a nationally recognized training provider, takes its share of responsibility for building safety in the construction industry.
Learning with Back to Basics is easy, effective, and quick. Here is why:
You gain access to training materials written by builders for builders.
You receive one on one training from industry experts.
You learn at your own pace.
If you would like more information on the courses Back to Basics offers or are interested in upgrading your resume with one of our qualifications, call us on 1300 855 713 or email enquiries@backtobasics.edu.au to find out more.