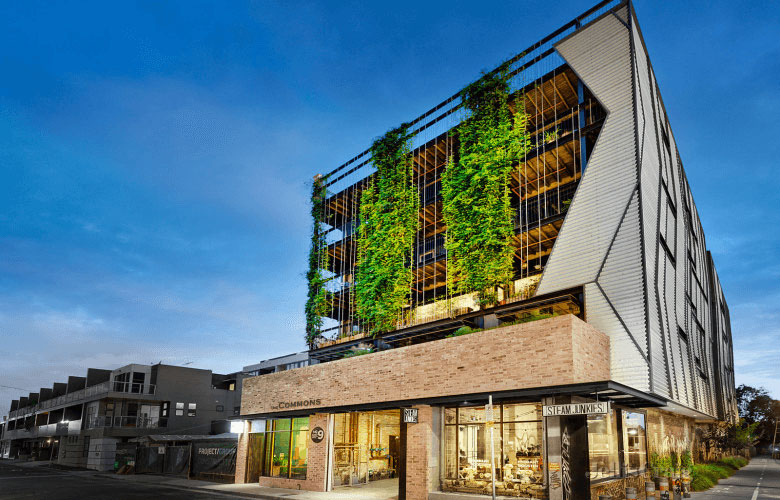 Sustainable Building – Is it the answer to the growing concern of climate change?
No air-conditioning. No car park. No tiles in the kitchens and bathrooms. No individual laundry.

It's real.

Located in the Melbourne suburb of Brunswick, this residence is called The Commons.

47 people, who chose this lifestyle, bought apartments in a five-storey building soon to be named Australia's flagship of a sustainable apartment building.

After the building opened in 2013, it has received thirteen awards to celebrate the sustainability that "emanates from every square foot of the building".

What makes The Commons an award-winning, sustainable building?

We will keep the list short. It uses ultra-efficient lighting. It has solar panels on the roof. Its location enables cycling, walking, and using public transport. It features recycled bricks and unfinished timber floorboards to minimise waste and enable reuse…

The Commons is not merely a building that makes a loud statement on sustainability. It's a benchmark that sheds light on the future of Australia's construction industry.

But before we look into the future, we need to recognize today's challenges.

Sustainable Buildings: What Makes Them A Necessity?

Climate Change Is Here

But what is the role of the construction industry in this? How exactly does it contribute to climate change?

Dry figures first.

It turns out "the buildings and buildings construction sectors combined are responsible for 36% of global final energy consumption and nearly 40% of total direct and indirect CO2 emissions", states the International Energy Agency.

If we go local, the built environment is responsible for nearly a quarter of Australia's greenhouse emissions. In its turn, the residential sector is responsible for 57% of our built environment emissions.

Australians currently emit more than 550 million tonnes of greenhouse gases each year (it means around 14 tonnes of greenhouse gases per household).

These numbers force us to wake up to the urgency of keeping carbon emission at a minimum and find more energy-efficient solutions for the buildings we construct.

Weak solutions will slide downhill.

The Demand Of Housing Is Rising

The growing population in Australia raises another alarm.

Its number is foreseen to rise from 24,13 million to 36 million in 2046.

Melbourne's population alone is going to rise to 8 million by 2050. Now it's 5 million.

This puts more pressure on existing infrastructure and housing sector and creates a huge demand for new buildings for us to live and to work in.

Of course, the number of required dwellings will vary based on the population growth rate and household income capabilities. However, research by Australia's Housing Industry Association (HIA) indicates that on average Australia will need to build 184,807 new dwellings per year "to successfully house our growing and ageing population."

The third challenge makes the matters even worse…

Electricity Bills Are Hitting Hard

We know this first-hand. Month after month we part with our hard-earned money to pay our bills.

Power prices are high in Australia. In fact, they are among the most expensive in the world. In 2017 alone, the biggest energy retailers in Australia increased their prices by up to 20%.

This tendency, however, is not new.

Over the last ten years, as you can see from the graph below, the electricity prices have grown dramatically.

The good news is – there is a huge potential for reduction in energy bills and CO2 gas emissions.

By 2030, there is a potential to reduce the energy new buildings need by up to 56%. This will save up to $900 a year for every household energy bills (totalling $27 billion a year) as outlined in the Built to Perform report, prepared by the Australian Sustainable Built Environment Council (ASBEC) and ClimateWorks Australia.

The report also highlights that we can "deliver at least 78 million tonnes of cumulative emissions savings" by 2050 if we adopt stronger energy standards.

No easy task. But, fortunately, its execution has already started.

Tackling The Problem: Green Targets In The Australian Construction Industry

Net Zero Energy And Net Zero Carbon Buildings.

Australian Government has set a goal to have buildings with net-zero energy by 2030.

The Government also takes on the responsibility for reducing gas emissions – all new buildings must operate at net zero carbon by 2030 and all buildings must achieve a net zero emissions target by 2050.

Here is how to define net zero energy and net zero carbon:

Net zero energy buildings generate as much energy as they consume. In other words, they generate 100% of their energy needs on-site.

Net zero carbon is "when the amount of carbon dioxide emissions released on an annual basis is zero or negative".

Australia has to meet these net zero targets. Being a signatory to the Paris Agreement, it has taken on the responsibility of fighting climate change through implementing more sustainable and greener practices.

Embracing Industry-Wide Changes: NCC 2019 Updates

The National Construction Code (the NCC) – including the Building Code of Australia (The BCA) – are undergoing important updates to make sure the buildings are ready for a more sustainable future.

A quick reminder on what the NCC is all about.

The NCC incorporates all construction requirements in a single code. It outlines the minimum necessary requirements for safety, health, amenity, and sustainability of a building.

Updates to the NCC bring a major highlight in terms of sustainability: the new package of measures aims to reduce energy consumption by a potential 35%.

This means less electricity bills and less impact on the environment.

Two major rating tools are outlined in the NCC to assess sustainability features of buildings: Green Star and NatHERS which set minimum requirements for energy efficiency for all new buildings and major renovations.

The steps to a greener and more sustainable living environment also resonate with what changes people want to see in their cities.

Strategic Plans: Sydney And Melbourne Are Going Sustainable

The two biggest cities of Australia – Sydney and Melbourne – have already developed their strategic plans. These documents also reflect survey results on what kind of city residents would like to live in.

Sustainable Sydney 2030: Community Strategic Plan (2014)

In its targets for 2030, Sydney, the most densely populated city in Australia, outlines ten major goals, including:
Reducing greenhouse gas emissions by 70% (compared to 2006 levels).
The City will have at least 138,000 dwellings (this number includes 48,000 additional dwellings compared to the 2006 baseline).
At least 10% of city trips are to be made by bicycle and 50% by pedestrian movement.
Melbourne 2030: Planning for sustainable growth
Melbourne, in its turn, is committed to:
Cut greenhouse gas emissions.
Improve air quality and make Melbourne a greener city.
Adopt greater energy efficiency standards.
Make a big shift to public transport.
Increase recycling of non-domestic wastes.
Of course, the whole infrastructure should be considered to achieve such outcomes. But the major takeaway is: all of these strategic goals are already affecting the way architects design and build residential buildings.
And there is no going back.
Looking Ahead: The Demand For Environmentally Aware Professionals.
You are left with one option: to adapt your skills and knowledge to meet the demands of today's and tomorrow's building practices.
Not to stumble in confusion, a look forward is key to ensure you are walking the right path.
Where we locate our buildings, what building materials we use, what solutions we put into practice – from now on these questions must be viewed through the lenses of sustainability.
We will need professionals who will take the green techniques to execution and will transform the way we live and work.
We will need architects, builders, and engineers who know how to deal with sustainable building materials.
We will need professionals who can accurately quantify and improve the environmental performance of our buildings.
We will need specialists who will be experts in building codes and regulations and can assess buildings for sustainability.
Whether you are considering a new career path or want to revamp your skills and knowledge to meet the market's demand, Back to Basics provides online courses designed specifically to suit the Australian Construction Industry.
Earning your Certificate or Diploma is quick, simple and easy with the help of expert tutors and learning materials developed by builders for builders.
Call us on 1300 855 713 or email enquiries@backtobasics.edu.au to find out more.