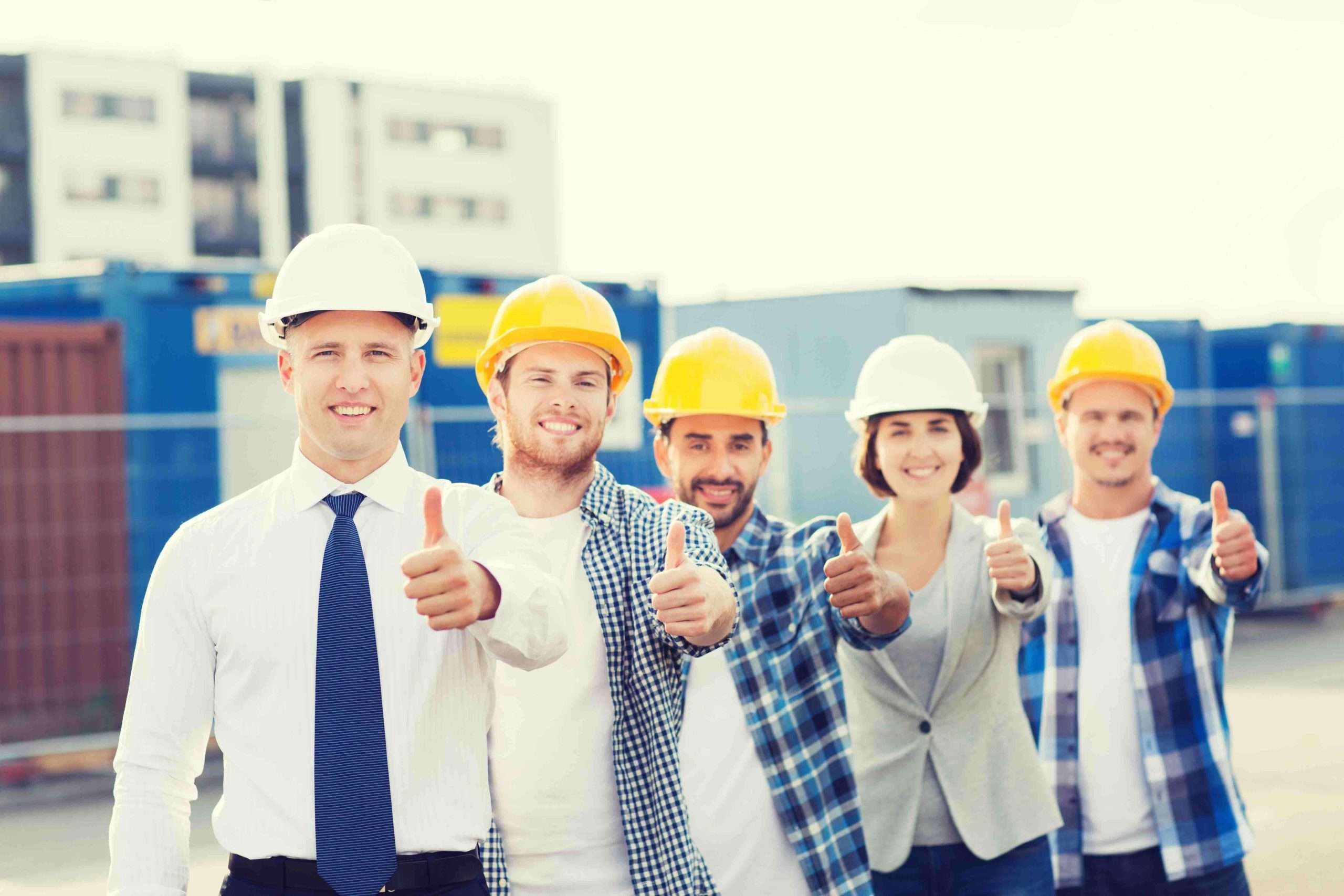 Who is Involved in the Construction of a Safe Building?
As you go through the long list of needs and requirements, you have to handle the challenge of competing objectives. The building must comply with laws and regulations. It should fit into a set budget. It should be aesthetically appealing and functional… But no matter what, you must keep the safety of workers and end users a top priority.
Here are the key members in a construction project — each of them having his or her own responsibility for the safety of the building.
The duties, of course, are not clear cut, and you will find differences from project to project. But the major responsibilities we outline here define how each party creates the ultimate safety of a building. Now not all of them may be present on your site as sometimes they are not required, but we have decided to include everyone.
The Client
The vision is born.
The Client is commonly defined as an entity, individual or organisation who controls the project – by funding and commissioning it directly or indirectly. He establishes the vision and the goals for the entire project.
It's the Client's responsibility to appoint people that are qualified and competent. A trained and knowledgeable team is the cornerstone of completing a safe building that has minimal risks of incidents and failures, is easy and cheap to maintain, and safe to modify and renovate.
The Principal Designer
From vision to the first sketches.
Designers take the Client's vision and create a draft that meets the needs and goals of the project.
The Principal Designer is appointed by the Client and is in charge of the pre-construction phase. However, a designer's decisions affect not only the initial stage of the construction. They impact the health and safety of everyone involved in constructing, using, maintaining, refurbishing, and demolishing the building.
That's why, the Principal Designer has the duty to eliminate any foreseeable health and safety risks identified throughout the life cycle of a building. If it's not possible to eliminate the risks, measures should be taken to reduce and control them.
The steps of identifying, assessing and controlling risks are outlined in our article: A Quick Guide to Help you Design a Safe Building.
Designers inform other team members of any risks that need to be controlled and provide information to help them fulfil their duties.
Consultants
Assessing and reviewing each detail.
We all know the golden rule: it's easier to prevent than to cure. That's why involving consultants with field-specific qualifications at an early stage of building design will save everyone precious time and resources. Primarily, consultants help to eliminate or prevent safety issues — here is what makes their services are so valuable.
For example, a consultant may be appointed to assess the site the structure will be built on and make sure the soil can hold the weight of the building. Or, a specialist may be hired to ensure that the building products and materials comply with the National Construction Code of Australia (The NCC).
The Principal Contractor
The necessary skill set is brought into the project.
Being a Contractor is like being a business owner. They negotiate their deals by choosing products that are valuable, available and easy to install. They also take care of timeliness of work completion and staying within the budget limits.
A Contractor is appointed by the Client and offers a set of skills which are performed on a contractual basis.
The Principal Contractor also plans and monitors health and safety throughout the project. It's essential to make sure workers are trained and engaged in securing their health and safety.
Sub-Contractors
Filling in the skills gaps.
No Contractor will have the whole arsenal of required skills to carry out the entire construction. To close the skills gaps, they cooperate with Sub-contractors (individuals or organisations) who carry out particular elements of the work.
Sub-contractors can be in charge for a wide range of works: piling, cladding, roofing, steelwork, plumbing and so on.
Project Manager
The Client finds his representative.
The Client should have a representative on site.
Well-trained in building construction and in project management, the Project Manager has the responsibility to inspect quality of materials and the workmanship and to make sure tasks are completed on time.
Quality assurance is one of the high priority duties of the Project Manager who not only provides adequate resources for quality assurance but also reviews the company's overall quality system.
Quality Manager
Deciding whether the work should continue or stop.
The cornerstone of the quality team is the Quality Manager who has the primary responsibility for quality assurance of the project. He or she considers the differing needs of various parties and makes decisions that will directly impact the project in terms of safety and timeliness.
Quality Manager has the authority to suspend, prevent, or stop work may it compromise on quality or cover up a defect. Additionally, it's his or her responsibility to remove or replace any non-compliant or non-conforming material or work.
Architect
The building plan is being created.
Meet the person who takes the concept and turns it into a tangible plan.
Architects wear so many hats: they make sure buildings are safe, functional, sustainable and suit the needs of occupants. The architect is a so-called "high level engineer" — he makes the most of a site or a building for the purpose of living, working, playing concerts, shopping…
The Architect conceptualizes the Designer's vision by creating the blueprint – the building plan.
There a number of safety duties on Architect's shoulders, such as designing fire system installations, exit routes, or easy access for the disabled. They should also follow building codes and understand the performance requirements of building elements and materials.
Architect's presence on the construction site is important. During regular visits, he or she must ensure that the work being carried out corresponds to architectural design and specifications.
Engineers
From the blueprint to a building that stands firm on its foundation.
Engineers take the blueprint and decide what materials must be used to bring the Architect's design to completion. Within their specialist field, they make sure the building is strong enough for use.
To arrive at an optimal solution, engineers carry out various analyses and calculations to ensure the design is safe, functional, and meets all appropriate building codes. They choose structural materials and make decisions about the electrical, heating, ventilation, air conditioning and plumbing systems.
That's why engineers come in a wide variety: civil engineers (who deal with site infrastructure), plumbing engineers, mechanical engineers (who handle heating and cooling systems), electrical engineers (who control power and lighting), etc.
Trade Contractors
Specific elements of building work – done!
Construction works are divided into packages that are handled by separate contractors. Unlike Sub-contractors who are appointed by the construction manager, Trade Contractors are hired by and report directly to the Client.
Trade Contractors specialize in a specific part of a construction project, such as site preparation, plumbing, electricity, painting, fire sprinklers, alarm systems, etc.
Builders
The actual work is in progress.
Builders translate designs, drawings, and specifications into a physical structure. Much of the safety and compliance responsibility is on them as they are the ones who do the actual building work.
Though builders' role takes prominence at the construction stage, they may be involved in building development process as well.
Superintendent
Day-to-day control of the construction process is in place.
Superintendents keep the project moving ahead – on time and on budget. For this, they manage schedules, review progress against delivery milestones, and make sure everyone is properly informed about their roles and the requirements of the project.
If needed, Superintendent is the person who takes remedial action to achieve planned outcomes. All of this, by the way, should be done without compromising on quality and safety. That's why Superintendents are given the right to postpone or suspend work, should the necessity arise.
A deep understanding of the building process and great teamwork skills – this is what Superintendents need in first place as they monitor works, control employees, examine and test building materials, and take unresolved questions to key internal and external stakeholders (the Principal Contractor, subcontractors, the Client, etc.).
Site Supervisor
Workers are safe and secure on the construction site.
No one should be exposed to risks and hazards on the construction site. It is the Site Supervisor's duty to incorporate a safety program into the overall management and supervision plan.
Site Supervisors should have appropriate health and safety training to be able to identify and assess hazards as well as monitor and inspect the construction site.
They typically report to the Project Manager.
Approval Authorities
The government takes on its share of responsibility.
No matter how effectively the entire construction team operates, the role of independent inspection is crucial to ensure the quality of the overall building.
The government has its own duty in making sure a safe building is delivered to occupants. Building Certifiers or Surveyors, who go through a rigorous certification process, are involved in construction projects to reveal any instances of substandard materials or cases when these materials are applied incorrectly.
Manufacturers, Importers, Distributors And Retailers
In case you failed to consider them…
Next, come other parties involved in constructing a safe building whose duties and responsibilities might be overlooked.
Every product and material used in construction should comply and conform with industry standards and regulations. Manufacturers have the duty of ensuring all of their products are compliant and providing detailed specifications for how the product should and should not be used by customers.
If needed, each product and material should undergo appropriate testing and certification. Trade and distribution laws should be followed to make sure customers receive goods that meet safety and quality requirements.
The Urge Of Adding More Parties To The List….
On Christmas Eve, 2018, sounds of cracking were heard in the Opal Tower, a 36-storey apartment complex in Sydney Olympic Park. The newly-built residential complex was evacuated for safety reasons.
A two-month investigation was required to find that "lower-strength concrete" was used in the construction and the support beams were "under-designed" — resulting in deep structural flaws. Eventually, the panels cracked under the progressive load as apartments became occupied.
This major failure in maintaining required safety standards urged the three authors of the final report highlight the necessity of:
involving an Independent Registered Engineer for on-site inspections and
creating a Building Structure Review Board to foster safety implications.
No matter how many parties are involved in ensuring the safety of a building, we will make little progress if safety does not become the culture we adopt.
Goodwill or complacency is not sufficient.
Safe design requires knowledge and capability.
It means the right training, licences, and experience for each individual involved in construction.
Back to Basics, a nationally recognized training provider is here to help you earn your construction qualification – be it for a project manager, a site supervisor, a trade contractor, or a licensed builder.
Here is what makes the learning process easy, effective, and quick with Back to Basics:
You gain access to training materials written by builders for builders.
You receive one on one training from industry experts.
You learn at your own pace.
Call us on 1300 855 713 or email enquiries@backtobasics.edu.au to find out more.